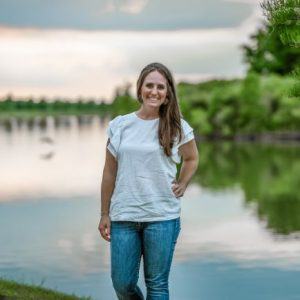 Dr. Lauren Teachout has always loved being part of a small town. She was raised in Bono, Arkansas, and attended college in Batesville, Arkansas, at Lyon College. She earned her dental degree from the University of Tennessee College of Dentistry and, upon graduating, was awarded the Sidney S. Friedman, Sr. Periodontology Award. Dr. Lauren is currently a member of the American Dental Association® and Tennessee Dental Association. She is looking forward to becoming involved in the Covington community as well!
Dr. Lauren knew from a very young age that she wanted to be a professional in the medical field, and while in college, she began exploring all the many options. "After seeing the impact that a changed smile made in my father and husband's lives, I knew that dentistry would allow me the opportunity to truly make a difference in the lives of others." Dr. Lauren is excited about the ever-changing dental field, learning to provide treatment with the newest technology and being able to share her passion with her patients.
Aside from dentistry, she most enjoys spending time and making memories with family and friends — especially her husband, Kirk, and her three sons, Parker, Wynn and Nolan. She enjoys being active with her church family, traveling and being outdoors.
---
Meet Our Team
Our friendly team is excited for you to come visit us here at Covington Family Dental. We love seeing new and familiar faces, and we are here to handle anything you need while Dr. Teachout cares to your smile. Call us today at 901-476-2600 to schedule a consultation with our dentist and learn more about our services in Covington, Tennessee.
Kirk
Office Manager
Kirk joined our team when his wife, Dr. Lauren Teachout, purchased the practice in 2019. He contributes to the success of Covington Family Dental by managing the business side of the office with responsibilities such as marketing and advertising, social media, patient satisfaction, and more. He loves the culture and environment that we have with our team and the warm, positive feeling you feel when you walk in the door. He works very closely with Dr. Teachout to make sure we have the best office around.
When he is not in the office, he enjoys spending time with his family and mountain biking.
Donna
Office Administrator
Donna became part of our team in 2019, and she jokes that she came along with the building. She always strives to treat everyone with respect by listening to concerns and exhibiting a positive attitude to support our patients. Prior to moving to the front desk, Donna worked as a registered dental assistant. She is married to her husband, Dave, and together, they have five children and eight grandchildren.
She loves to spend time with her family and go on great beach vacations.
Emily
Dental Hygienist
Emily joined Covington Family Dental in January 2019. She is a proud 2013 graduate from the University of Tennessee where she received her bachelor's degree in dental hygiene and training to administer and monitor local anesthesia, including nitrous oxide. As a dental hygienist at our office, Emily always strives to keep a positive attitude and treat patients as family. She is more than willing to help wherever she is needed to take great care of our patients.
She is married to her husband, Adam, and together, they have their son, Paxton, and daughter, Peyton. In her free time, you can find Emily spending time in the outdoors, travelling and exercising.
Carley
Dental Assistant
Carley became a part of our team in March 2020. She completed her RDA program at Complete Dental Care in Jackson, Tennessee, and enjoys being a part of team who treats each other and their patients like family. She contributes to the success of our practice through her positive attitude and determination to put a smile on everybody's face.
She is engaged to be married to her fiancé, Luke, and together, they have three fur babies: Woody, Buzz and Andy. When she is not in office, Carley likes to go shopping and get her nails done.